Morning Fledge Watch 7-28-15
By Rochester Falcon Watcher MAK
It was 67 (F) 19 (C) when I ventured out with a hazy sky breaking into blue skies and sunshine
I spotted Billie and Seth from Seth Green Dr. on the south end of the building top window ledge. They were at opposite ends facing each other. I drove back to my parking lot for a closer review. Billie stretched out and i could see a feather or two missing from her tail-she may be molting as is Beauty. It was peaceful as there were no juvies around whining and the adults seemed content to just hang out with each other as they stretched and preened.
One of the Seneca Towers residents stopped by to chat with me about the falcons and during that time both Billie and a few minutes later Seth flew southeast. I left for downtown around 6:40am and after having a look from the Andrews St. bridge (ASB) decided to check the east side after checking the Times Square area. As I was driving down Exchange Blvd. I spotted Cadence and Genesee on Widows Walk (WW). I went around the block to Fitzhugh St. where I could see that Cadence was on the north side with food and Genesee a few feet from her on the northwest corner.
Cadence stopped eating just before 7am and walked over to her brother. She was being very cute as she tipped her head to look at him and then they did a little beak to beak kissee face. Genesee put a talon on her back and I thought he would jump on her until in a flurry, Cadence got out of there and went under the railing to the inside out of view.
After thinking about it a couple minutes Genesee joined his sister inside the railing and now MAK couldn't see either one of them!
I drove out to Broad St. to see if I could see them from there when I noticed Dot.ca (DC) fly to WW then up to the southwest wing ring at the tippy top of Times Square. There was no sound coming from the juvies so I wondered if they left or if DC had dropped off food and they were busy with that.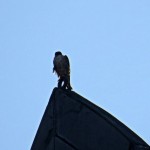 DC left while I was on my way up to the Broad St. bridge (BSB) and there I found Cadence on the head of Mercury. So that answered my question of whether the juvies were still on WW.
I also spotted a falcon on the 3rd arm of the jail tower, I took a quick ride over to Troup St. to see who it was-Beauty. Then back to the BSB where Cadence was giving the falcon power signal.
She took off at 7:28am across the river where she met up with Genesee near the Hyatt Hotel. They headed southwest until I could no longer see them.
I started checking out the river inhabitants and about 10 minutes later I heard a juvie screaming-I looked up in time to see the Beautyful one being chased by a juvie right over me.The juvie landed on the base of Mercury then immediately took off again heading northwest. I lost track of Beauty as I watched the juvie who, based on size I believe was Genesee.
I left and drove the direction they were headed and found DC on the top arm of FCT around 8am. I also refer to him as Mr. Clean and Whitey as you can clearly see why in the following pics.
I left him after a few minutes to search for the others but had no luck. it was starting to heat up so perhaps they found some nice shade to relax in. My last stop was the ASB where I could see that DC was still on FCT so I set out for home.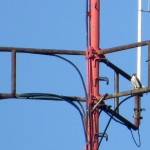 I checked the bridge and all sides of Seneca Towers but could find no falcons so I ended my watch at a little after 9am. I must say it was good to see all 4 downtown falcons today as they've been elusive the past few days and you know it made me smile!

Click on the links below to see today's videos-the snippet movie shows how cute Cadence and Genesee were with each other