Falcon Watch/Beauty,Dot.ca and Seth seen 8-23-17
By Rochester Falcon Watcher MAK
Storms yesterday ushered in a cold front which got rid of the humidity. The temperature was a cool 57 (F) 14 (C)
I stopped on the Andrews St. bridge (ASB) my usual starting point and spotted Beauty on the base of Mercury and Dot.ca (DC) on the northeast side, top I-beam of OCSR.
Traffic was backed up because of construction all over downtown this morning and of course it was rush hour, which made it worse, but I managed to get to Bragdon Place for a closer look at DC before he flew off. He was preening in all his whiteness.
After a couple minutes I went over to the Court St. bridge to be a bit closer to the Beautyful one. She was just looking around as gulls were flying past her.
The water in the river is very low right now due to just a slow bit of water coming through the lock south of the bridge. Since the last time I checked, the construction workers have built what looks like a walkway that curves around the back of the Dinosaur Grill. Many of the ducks were dunking their heads in the current.
I left to go walk Bella and when I returned to downtown I could only find DC tucked in the corner by the elevator shaft on the top I-beam, northeast side of OCSR.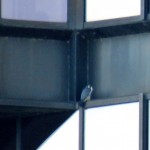 When I got to Seneca Towers I found Seth from the Northridge Church parking lot. He was on the north side window ledge in hunt mode as he kept watching something very intently down below him.
After about 5 minutes he flew off into a stoop and didn't return.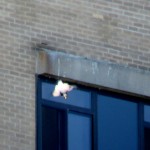 I ended my watch at 9:45am smiling after seeing 3 of our Rochester Peregrine Falcons!

Click on the link below to see a short snippet video