Morning watch 12-19-12
By Rochester Falcon Watcher MAK
On a much brighter morning than the last few I came up on the Broad St. Bridge where the south side was lined up with 5 buses. I looked to the north and watched pigeons flying up and over the bridge almost flying into the buses in panic mode. As the 3rd flock came thru there was a Peregrine Falcon on their tails and her name is Beauty! Unfortunately after they flew past the buses I lost sight of them. I started to type out my tweet of the activity when a tweet from Donna came in saying that Beauty was on the money bag hand of Mercury. So she doubled back on old MAK and snuck up on her money bag!  It just amazes me how fast things happen in the falcon world.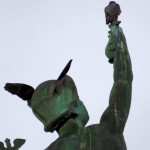 I looked up at Mercury after I read the tweet and sure enough there she was-Beautyful even with her back to me. I got out of my car and took only 2 pics and then started to videotape her. She looked around for half a minute,took a poop,spread her wings and took off to the southwest in the general direction of Cornhill( a favorite hunting spot) and the jail tower.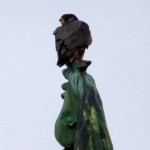 I thought for sure she'd land on the tower but I never saw her again having lost sight of her behind buildings. I checked around but couldn't find her so I went to Brighton. I had no luck finding any falcons so I left to visit SusanC at the hospital. She was doing well and hoping to go home this afternoon. I checked the Brighton site once more after I left Susan with no sightings there. I also ran thru downtown  to look for Beauty once more. She was hiding on me so I ended my watch. I figure I saw Beauty for maybe a minute and a half this morning and I feel lucky enough for that. It IS good reason to smile!

Click the link below for the quick video I took of Beauty on Mercury