A Late Afternoon Falcon Watch & a Battle at the BS Location (4:20 - 5:40 pm) - 1/24/13
By Rochester Falcon Watcher Carol P.
I got out of work a little later than usual, so I didn't get downtown until about 4:20 pm.  After driving around downtown, I found Beauty  up inside the OCSR elevator shaft on the south ledge.  It was very cold and blustery.  Nice to know that she has a spot to get out of the worse of the weather.  I stayed just a little while with her before heading to the BS location.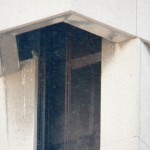 *
*
*
*
*
At the BS location, I found a falcon on the south side of the east extension.  I thought it was Pigott, but couldn't be 100% sure, since she had her back to me and I couldn't see if this falcon was banded or not.
*
*
*
*
I circled the building.  Finding no other falcons, I returned to where I could watch Pigott.  Before I could park my car, she took off and flew to the front (north side) of the building.  Of course I followed.
There were now two falcons on the building.  I assumed it was Pigott and BST.  Pigott was on the north side of the east extension, three windows down.  This is where they usually roost at night.  A 2nd falcon (BST?) was on a top window on the east side of the building.  They were definitely able to see each other.  All was peaceful.  I found a spot where I could see them both.
*
*
*
*
This is where it all gets confusing.  I texted that both Pigott and BST were at the BS location.  Just before 5:10 pm, the falcon on the east extension that I thought was Pigott, disappeared from view.  I didn't see her take off and the falcon I thought was BST on the east side didn't seem concerned.  He was just looking around calmly.  I thought maybe she had scooted over to the left side of the windowsill.  Both she and BST seemed to favor that side.  From my position, I couldn't see that corner.
Then everything changed.  The falcon on the east side took off screaming over me heading east.  A 2nd falcon had flow in.  Both falcons came together above the parking lot and they battled.  Talon to talon and loud screaming.  I truly hate that sound and hoped to never hear it again.  Once you hear those loud cries, you'll never forget them.  This was a true aggressive battle of two falcons very close in size.  So either female and female or male and male.  By this time the sun was setting and there was a large, almost full moon above.
I really tried to take some pictures of the battle, but my camera was not focusing.  So, I just put it down and watched, hoping neither bird would be injured.  They slowly moved southeast and I lost sight of them as they passed over the wooded area.
One returned quickly and landed on the NE corner of the east extension.  I looked over to see if I could see a 2nd falcon on the building, but couldn't.  It was only a moment or so before this falcon launched itself into the air and sped off to the east.  Fast!  I couldn't see if there was a 2nd falcon out there or not.
After a few moments of waiting to see if any falcons would return to the building, I slowly drove out of the parking lot and in front of the area on the northside of the east extension where I had last seen Pigott.  There was a falcon up there, moved over to the left side.  Was this Pigott and had she been there the whole time?  Was BST battling another male?  I continued to circle the building slowly, checking every nook and cranny as carefully as I could.  Back out front, I checked the nighttime roost area one more time before I was going to head home.  Now there were two falcons up there, the larger one, Pigott, on the 3rd window down and a smaller falcon above her on the 2nd window down.
I assumed this was BST above Pigott, but by this time it was too dark to tell for sure.  She was very comfortable with this male, and this was definitely a spot that Pigott and BST shared at night.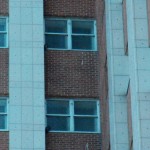 *
*
*
*
*
REMEMBER TO CLICK ON ANY PICS YOU WOULD LIKE TO SEE IN A LARGER VERSION.  THANKS!
It was 5:40 pm, and it was getting dark and since it was quiet, I decided to head home.  I was really happy to see two falcons there.
I really don't know exactly what happened at the BS location tonight.  Did a 3rd falcon come in?  After watching the behavior of Pigott and BST over the last month or so, I do not believe it was them doing battle.
The Rochester Falcon Watchers will be out to keep an eye on the situation and we'll report what we see.  Stay tuned!  Keep warm everyone!