Morning watch 1-31-13
By Rochester Falcon Watcher MAK
Today the wind was the story as it rocked my car and everything else pretty darn good. It knocked out power for nearly 7000 and this is after yesterdays warm 64 degree day.
10 minutes into my watch I spotted Beauty on the top ibeam southeast side of OCSR (I mistakenly tweeted southwest side).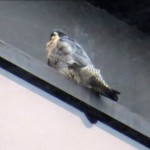 As I was making my way down to Graves St. where Aqueduct Park is located from the Broad St. Bridge(BST) she took off, so back to BSB I went. I observed the Aqueduct pigeons in fright mode near the Court St. Bridge then they settled down on the Blue Cross Arena. This meant Beauty was somewhere else scaring up pigeons, so I took a ride.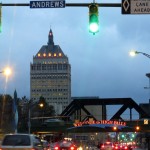 Turns out I should have stayed put for when I arrived back on BSB the Beautyful one was back on OCSR in the same spot.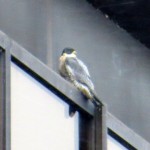 Again I drove down to Graves St. and again Miss let's play games with MAK had left the building as I was enroute! lol  Another couple trips around the windy streets of Rochester and some 25 minutes later as I sat in my car on BSB Beauty returned one more time to OCSR top ibeam southeast side. And this time she stayed for almost an hour before flying off to the south. She was fighting the very strong wind as she flew over me and out of sight. It would be a challenge for her to grab a meal on this day.
Along with the strong winds, snow squalls kept popping up on and off. After unsuccessfully finding Beauty I headed over to the Brighton Site. As I sat at the traffic light at the intersection of Mt.Hope and Elmwood Ave. I noticed how the wind was blowing the very heavy traffic lights.
Please click on the pics to view the full version
Arriving in Brighton a little after 9:00am there were no falcons around so I parked and waited. I was rewarded at 9:35am when I found Pigott had flown in and was perched 4 windows down on the northeast side of the building.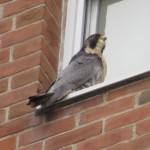 Miss Pigott was protected nicely from the weather there as she kept looking out on her territory. For 25 minutes she watched and judging by her crop she wasn't looking for a snack. Suddenly BST appeared and she flew off landing on the southeast corner of the east extension.
Miss Pigott stayed there less than 10 seconds and as she flew off BST landed up on the ledge below the roof top tree.
A couple minutes later Pigott returned and came to rest next to him maybe 2 feet away to his right and she was shaking her tail feathers.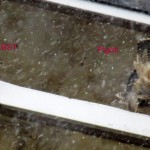 Make sure to click it
Miss Pigott stayed only a few minutes and then she was off to the northeast. BST remained but it was now time for me to leave. I checked downtown real quick on my way home for Beauty but couldn't locate her.  The smile on my face as I left for home today was due to the fact that I saw all 3 current Rochester Peregrine Falcons for the first time since Sunday.

I have provided links below for 5 videos from todays watch
http://youtu.be/5OsMGs7reO0
http://youtu.be/KFVyamEtmVY
http://youtu.be/l4y8yptaZ9U
http://youtu.be/nGpK8DzavJ0
http://youtu.be/aTSVPJVnJoQ