The 2014 Rfalconcam Calendars are now available!
The Merchandise Team, with a lot of help from some friends, has completed the 2014 Rfalconcam Calendars. There are two versions this year; one with full page main camera shots and one made up of main camera collages.
What a great way to relive the 2013 Rochester Falcons season with pictures of Beauty, Dot.ca, Pigott (yes, Pigott visited the nest box early in the year), Rosetta, Voyager and Baron and to support the Rfalconcam cameras!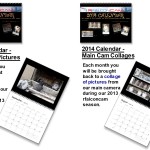 — Be sure to click on this picture to see the full version.
Both Calendars should be showing up in our Holiday & Calendars Category on Zazzle very shortly.
Thanks very much for your continued support!
Here are the two links to the new calendars on our Zazzle page.

Link For the Main Camera Full page picture calendar.