Good News! Rosetta (2013) Seen on Wednesday, November 27, 2013!
We received word today that one of our young females hatched this year has been seen up in Canada at Long Point, Ontario.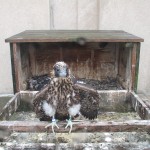 Many thanks to our friend Patty Gale from Canada who posted on Face Book about an immature Peregrine Falcon being seen with band #'s Green 96 over Black BA. Rochester Falcon Watchers Margaret Kurtz (MAK) and Joyce Miller were able to immediately identify this young Falcon as our very own Rosetta!
We here at Rfalconcam would like to thank Mike Burrell for spotting Rosetta at Long Point, Ontario, Canada and for allowing us to share his beautiful pictures. Rosetta looks great and seems to be doing well since leaving Rochester. Happy Thanksgiving from all of us here at Rfalconcam!