Just a few minutes into Sunday morning (4/13/14), Beauty laid her 3rd egg in the nest box on top of the Times Square Building in Rochester, NY!
Here is a picture showing the 3rd egg. Now that we have three eggs, will there be a fourth? Stay tuned!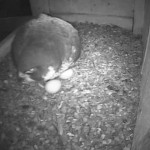 Some additional pictures of Beauty and the 3 Eggs!