We are happy to announce the arrival of the first eyas to hatch here in Rochester, NY in 2015!
At 12:28 pm, we got our first good look at a pip, a small hole in the egg.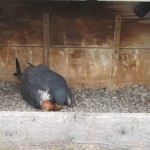 Falcon Fans around the world were thrilled at the appearance of the young falcon at approximately 1:47 pm.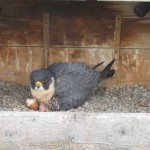 Both parents, Beauty and Dot.ca, welcomed the new arrival.
There are 3 more eggs in the nest box, that should hatch within the next day or two.