A third egg arrived a little earlier than we expected Saturday afternoon at 5:37 pm. Beauty usually averages between 58-59 hours between eggs. It was only 54 hours between her 2nd and 3rd egg. Nothing is ever certain in the world of the Peregrine Falcon!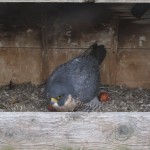 Easter morning Dot.ca brought in breakfast for Beauty and we had a nice look at their three eggs before he covered them.
If Beauty lays a 4th egg, it should arrive sometime late Monday evening or??? Who knows! We'll just have to wait and see. Stay tuned!
Happy Easter! May it be a peaceful one!