Sometime early this morning, Beauty laid her 4th egg in the nest box on top of the Times Square Bldg. I believe it happened around 4:30 am.
Dot.ca came in at 6:36 am with breakfast for Beauty. That's when we got our first look at all four eggs!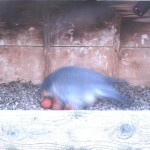 Congratulations Beauty, Dot.ca and all their virtual egg parents around the world!