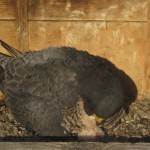 We have a hatch! At approximately 6:08 am this morning, eagle-eyed watchers witnessed a very early morning hatch. Falcon fan, Carly, caught these two pictures of the appearance of Rochester's first eyas of 2018.
While this tiny eyas (baby falcon) was working hard to break out of its' shell yesterday, Rochester was under a high wind warning.
Here are some pictures captured by the RFalconcam cameras. You can just get a glimpse of the newly hatched eyas. Be sure to click on them to enlarge the picture.
Oh, look who just visited! Dot.ca wants to see! Soon he will bring in a meal and Beauty will feed the eyas for the first time.

Thank you for tweeting out the good news Donna!
There are still two more eggs, that should hatch soon. If you go to our streaming video, you can watch all the activity of this year's falcon family!