A Weekend of Falcon Watches – 4/27/13 & 4/28/13
By Rochester Falcon Watcher Carol P.
I too want to start my falcon watch report by sending my condolences to my friend Jeanne for the loss of her dog Mariah.
I was out quite a bit on Saturday and out late today (Sunday).  With brooding in high gear on the eggs in the nest box on the Times Square bldg, I didn't see much of Beauty at all while I was out.  I did see Dot.ca a lot, both downtown and at the BS location.  Pigott was out out at the BS location both days.
Saturday – 4/27/13
When I arrived downtown yesterday, I found Dot.ca on the green stripe on the south side of the Wilder Bldg.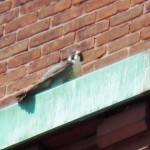 *
*
*
*
*
Since it was quiet, I headed over to the BS location and found Pigott plucking her lunch on the SW corner of the west extension.  This is a favorite spot for her to eat her meals.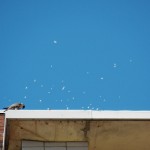 *
*
*
*
*
Below her was a Groundhog munching on greens.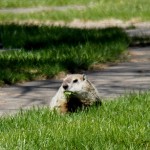 *
*
*
*
*
After eating her fill, Pigott took her leftover meal on a trip around the building, finally caching it on top of the south side vent.
*
*
*
*
Joyce joined me, and we kept track of Pigott as she moved around the building.  Pigott had settled on the SE corner of the building.  I drove closer to her position and Joyce went to the back of the building.  Pigott took off heading north and I drove around to the north west corner of the building where I could see Pigott flying fast to the north.  She met up with another Peregrine and they battled for awhile before the intruder headed north and Pigott flew back towards the BS bldg.  Just before she arrived, a streak flew in and landed on the west side of the NW extension.  It was Dot.ca.  I thought he might have seen Pigott battling from his position downtown and flew over to support her.
Pigott flew in and landed near Dot.ca, vocalizing loudly.  She then flew into the cubby and Dot.ca landed above her.  Joyce joined me and I explained what happened.  Pigott continued to vocalize until Dot.ca flew down to the outer edge of the cubby.  She was finally mostly quiet after that.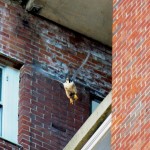 *
*
*
*
*
After Dot.ca flew out of the cubby, he and Pigott flew around the building quite a bit.  Lisa McK arrived to join the watch.
*
*
*
*
Piggot retrieved her earlier meal and carried it to the NE corner of the building where Dot.ca joined her.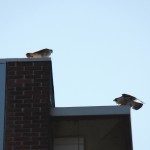 *
*
*
*
*
Dot.ca left for downtown soon after this.  Pigott flew back to the south side vent.  That's where she was when I left Joyce and Lisa to check out the downtown area before I headed home.
Just as I arrived on the Broad St Bridge (BSB), Dot.ca left the nest box platform and landed on the Mercury statue's moneybag hand.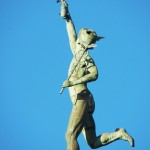 *
*
*
*
*
I remained downtown for about a 1/2 hour before heading home.
Sunday – 4/28/13
I wasn't able to get out til very late today.  I first stopped on the Broad St Bridge, downtown.  Beauty was inside the nest box brooding the eggs and Dot.ca was above the nest box on the NW wing ledge of the Times Square Bldg.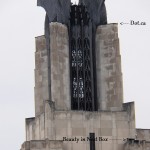 *
*
*
*
*
Next stop the BS location where I found Pigott on the NW corner of the building looking north.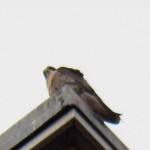 *
*
*
*
*
Joyce pulled in behind me and we spent a few moments chatting.  Unlike yesterday's gorgeous blue sky, it was overcast this afternoon and threatening rain.  Joyce had to take her dogs for a run, but then she met me downtown.
Beauty was in the nest box and Dot.ca was on the top SW Ibeam of the OCSR.  All was quiet at both locations.
Many thanks to Rfalconcam forum members Kris G, NCAFalcon and Ei for their assistance both days.  Thanks ladies!
Be sure to click on any pics you would like to see larger.
Now for the off-topic Rochester News.
If you haven't heard already, starting Tuesday, 4/30, a film crew is in town to film a chase scene on Main St West.  The buses that normally have their scheduled route on Main St will be transferred over to the Broad St Bridge.  The watchers normally watch from Broad St, so I'm not sure how this will affect our watches for the week or so that they are filming.  We'll have to wait and see.  Thankfully this is a slow time while they brood the eggs.
I'll leave you with a few pictures of the Spiderman chase scene vehicles parked in a lot on Exchange St.  Rochester will look a lot like New York City very soon.  Enjoy!
*
*
*
*