Morning watch 4-29-13
By Rochester Falcon Watcher MAK
51 (F) 11 (C), showery,overcast were the conditions when I started my watch.
As I was about to pull out of the driveway for downtown I got a tweet from Annette saying Dot.Ca (DC) had relieved Beauty on their eggs. When I arrived on the Broad St. Bridge (BSB) I didn't find Beauty initially. 10 minutes later she appeared on the base of Mercury with her first meal of the day.
She spent 45 minutes preparing and consuming her prey. When Beauty was done it started to rain. 10 minutes later Beauty flew to the nest box and DC went to the Mercury money bag (MMB).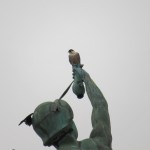 He would stay there for 10 minutes and then he flew off to the southeast.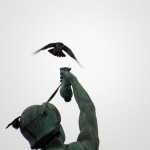 I decided to go check the Brighton site at this time. Arriving about 7:30am I found Pigott on the southwest corner of the southeast extension.
Miss Pigott was there for maybe 2 minutes when she flew east with her powerful wings flapping and then all of a sudden she went into missile formation and stooped on something leaving my field of vision. I waited a while for her to return but she didn't so I drove back downtown. Arriving around 8:30am on the BSB I could see no falcons. Annette once again reported that there had been a switch in the nest box and DC was on the eggs. I made a couple trips around looking for Beauty and as I approached from the east side I spotted the Beautyful one on the base of Mercury.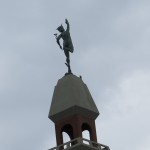 Beauty was just hanging out looking around the territory every once in a while with a full crop.
Everything was quiet so I ended my watch just before 9am. Seeing all 3 resident Rochester Peregrine Falcons makes me smile every time! 🙂
Click on the links below to view a few videos if you so desire
http://youtu.be/C7BL4qJpuQQ
http://youtu.be/XDCuFxH2RKk
http://youtu.be/c3jXKd05jM4
http://youtu.be/59P-isEI8Kc