Monday Late Afternoon Falcon Watch – 4/29/13
By Rochester Falcon Watcher Carol P.
When I left home, I knew that Beauty was in the nest box on the eggs.  I arrived on the Broad St Bridge at around 6:30 pm, hoping to find Dot.ca.  Joyce and Lisa McK were over at the BS location and they only had Pigott.
I decided to go down to Aqueduct St aka the "hole" for a closer look.  No falcons seen from down there either, but I didn't have to wait for the very vocal arrival of Dot.ca.  At 6:38 pm, Beauty saw him before I did and she announced his arrival for all to hear.  Beauty flew up to the NW wing ledge on top of the Times Square Bldg and Dot.ca joined her.  They copulated and Dot.ca took off and Beauty was right behind him.  I followed Beauty's flight to the base of the Mercury statue and missed where Dot.ca went.  Many thanks to Rfalconcam Forum member Ei for tweeting out that Dot.ca had gone into the nest box to take his turn at brooding the eggs.
I moved back to get a better view of Beauty.  She was now eating on the base of Mercury.  Not sure if Dot.ca brought food in or whether she was eating cached prey.
*
*
*
*
As Beauty was finishing her meal, Kathy O joined me.
*
*
*
*
Kathy and I stayed on watch until about 7:45 pm.  By this time, Beauty had returned to the nest box and Dot.ca was keeping watch from the money bag hand of the Mercury statue.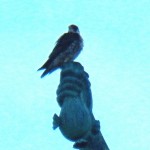 *
*
*
*
*
All was peaceful and quiet.  All three Rochester Falcons seen, making it a very good day!
Additional Rochester News

They were quite active at the lot containing the vehicles that will be used for the filming of the chase scenes for the newest Spiderman movie over the next week or so starting tomorrow.  Many special affects vans and all kinds of gadgets that I have no idea what they will be used for.
There was no parking allowed at all on Broad St while I was downtown today on either side, from Exchange to past the Rochester Library.  All bus traffic will be diverted from Main St to Broad St.  Main St will be closed during filming.  I also noted that  they had yellow tape surrounding all the picnic tables in Aqueduct Park where we held our Falcon Watch Weekend last year.  Possibly for use  by the film crews and extras?  They also had yellow tape blocking off all the parking on the west side of State St between Church St and Main St.
I'm not sure how accessible it will be for the falcon watchers.  Time will tell.  We'll let you know!  Should be very interesting.
I'll leave you with a picture of just a small portion of the NYPD police cars they had in the lot when Kathy O and I checked it out during our watch today.