Morning watch 1-17-11
By Rochester Falcon Watcher MAK:
It was a frosty start in downtown Rochester with the temperature at -5 degrees F. I first saw Beauty on The money bag hand of Mercury with breakfast in her talons. After a minute or so she went down to the base of the statue and started preparing it to eat.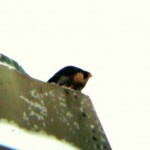 While I was tweeting she left. I found her again after about 20 minutes on the NE corner of the launchpad of the Kodak Office tower. She was preening and being her Beautyful self.
Before I ended my watch I took a picture of the high falls. They were rolling along and quite steamy because of the bitter cold air. I didn't walk over to the railing for an unobstructed view because the snow was deep over there and I was wearing my slip-on sneakers.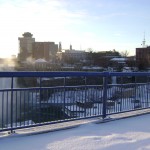 Have a great day everyone! 🙂