Morning watch 8-25-13
By Rochester Falcon Watcher MAK
Clear and cool with a gorgeous sunrise sky the starting temperature was 56 (F)  13 (C) as I headed to downtown.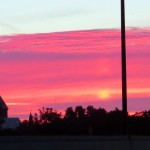 Please remember to click on my pics to see the full version
Todays watch features our handsome boy Dot.Ca (DC) since I saw him the most. I spotted Beauty on the southeast corner of HSBC as I was stopped at the traffic light at Clinton and Court St. When I got over to Chestnut St. to watch she was gone. A minute later DC joined the Beautyful one in flight above Xerox. They did some circling in and out of view and then one of them landed on the south side of the roof and the other appeared to land on the north side.
I was hearing echupping and then it went quiet. Then I heard DC doing his distinct chirping sound as he started flying around Bausch&Lomb, Xerox and Midtown. More echupping as he passed over the roof of Xerox many times so I believe Beauty must have been up there. After DC was done sky dancing he flew to Midtown and landed on the 3rd open roof down southeast corner.
DC stayed there about 15 minutes and flew off between B&L and Xerox going into a stoop toward the river. Right after he left all the east side pigeons scattered breaking off into 3 groups before settling on their various roosting spots. I next found DC  on the top ibeam south corner of OCSR from the Broad St. Bridge (BSB).
He turned around and walked east a couple of feet showing me his back so I left the hole and drove over by the Radisson Hotel and Main St. for a front view.
DC did some preening and watching over his territory in the 10 minutes he was up there. A Great Blue Heron flew thru below him and DC just couldn't resist going after it. He broke it off quickly and flew up to the north corner top ibeam but didn't quite have enough lift  to land so he pulled back and flew west out of view.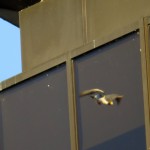 I didn't find DC or Beauty on a trip around downtown so I went to Brighton where I found pretty Miss Pigott on a west side window ledge right next to the cubby just before the 8 o'clock hour.
Pigott remained with her back to the world so I left her to it after 45 minutes and returned to downtown. I found only DC on OCSR top ibeam near the north corner. The pooparazzi caught DC  in the act! lol
I ended my watch after that at 9:15am smiling as I pulled away from the curb as I love a good poop shot! 🙂
Click on the links below to view some videos
http://youtu.be/r13dITJpcRw
http://youtu.be/oHoK2p88SgA
http://youtu.be/KytuYER2mOg