Morning watch 9-25-13
By Rochester Falcon Watcher MAK
Another sunny morning with bright blue skies and a starting temp of 41 degrees (F) 5 (C)
I spotted Beauty on the southeast corner of HSBC as I was stopped at the traffic light at Clinton and Court St. I drove to Chestnut St. in front of Manhattan Square Park looked up and she was gone but I found Dot.Ca (DC) on the south side of  Xerox. He was on the 9th column over from the southeast corner.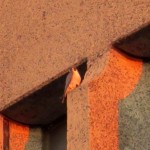 I left DC after 10 minutes and found Beauty on the top ibeam southeast side of OCSR. Initially I spotted her from the Broad St. Bridge but I drove down to Graves St. to be closer.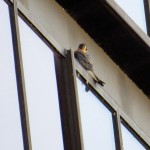 I watched her for about 10 minutes as well and left to check Hawkeye (HE) and Seneca Towers (ST) around 7:30am. No juvie around at either place that I could see. Upon my return to downtown the Beautyful one was still on OCSR and DC on Xerox so off I went to the Brighton location where again Pigott wasn't home. Back to our fair city after getting reports from Donna, Shaky and FlaDonna that Beauty and DC were on OCSR. Of course when I got there at 8:30am they were both gone, however I could see Beauty on the Frontier Communications Tower northeast cube so I went over there. On my way I checked OCSR on the north side anf found DC on the north corner top ibeam.
Beauty was preening and scratching while pulling feathers out of herself as she is still in a molt. She's just about done as she's looking great.
So I spent half hour with Beauty and just before I left she pooped, stretched her wings and moved in onto an east side beam under the platform. I checked for DC as I made my way out of downtown but he was gone from OCSR.
Our downtown Peregrine pair are doing their own kind of bonding by hanging out together at different spots-OCSR, FCT and Xerox. I'm not sure if Beauty and DC will eventually make it to the nest box (theirs is a strange relationship) to bow and echup like he does with Pigott over in the cubby at BS but if and when they do we all will be smiling! 🙂
Click on the links below to see some videos
http://youtu.be/B972PXtcYzY
http://youtu.be/isn9LiLtDbQ
http://youtu.be/ELszwfAoU-U
http://youtu.be/CzoI0fl9yug