Wednesday Night Falcon Watch – Who's on First? : ) – 9/25/13
By Rochester Falcon Watcher Carol P.
I saw 3 falcons tonight and wasn't able to positively ID any of them.  Two had their back to me and it was too dark to get a good look at the 3rd.  Here's my best guess.
Beauty was on the SW corner of HSBC.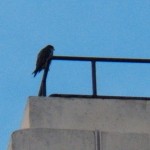 *
*
*
*
*
At first I thought this was Pigott at BS on the south side of the west end of the building across from the cubby.  After checking my pics, I now think this was Dot.ca.  His back was to me the whole time and he took off while I was checking out the 3rd falcon of the night.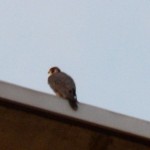 *
*
*
*
*
The 3rd falcon I saw tonight was at BS on the west end of the south side vent.  By this time it was too dark to get a good look and my camera is horrible in low light.  This bird looked darker to me and now I believe it was Pigott eating up there with feathers flying.  Here is a picture that shows a dark blur of a bird.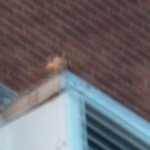 *
*
*
*
*
After eating, she took off and flew to the front of the building.  I found her on the NW corner of the NW extension.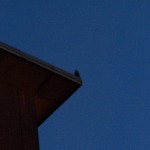 *
*
*
*
*
There was no vocalizing between DC and Pigott while I was there.  Both were very quiet.  The only sound in the area was the honking of the Canada Geese as they took off in formation heading south.
The only thing I was certain about during my watch was that I saw three falcons and that this was not Beauty on the NE Box on the Frontier Communication Tower.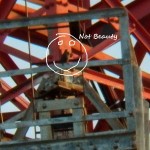 *
*
*
*
*
Goodnight everyone!  Have a very nice evening!