Morning watch 9-26-13
By Rochester Falcon Watcher MAK
The day started with a temperature of 42 degrees (F) 6 (C) with more sweet sunshine and a few clouds rolling thru
I looked around for 2o minutes and on my 2nd pass on the east side I spotted Dot.Ca (DC) landing on the south side of Xerox 4th column from the southwest corner at 7am.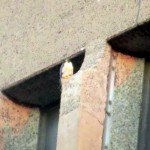 I stayed with Mr. White stuff a few minutes and then left him to continue my search. I didn't find Beauty anywhere so I eased on down the road to Hawkeye-nothing and then Seneca Towers-another unsuccessful site. Back downtown I went to find that DC had left Xerox and Beauty was still hiding from me. Off to the Brighton Site I went only to come up with nothing again. Sheesh! Upon returning to downtown I found DC on the south corner top ibeam of OCSR at 8:45am. He was looking especially white today!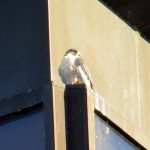 DC was in definite hunt mode while he was up there and after 15 minutes passed he flew off to the west.
I checked the north side of OCSR and the Frontier Communications Tower but didn't see anything so I drove to High Falls to try my luck. It was amazingly quiet there with only 1 gull flying near the falls and no other wildlife in sight-shocking! So I turned my binocs from the gorge to the city skyline starting on the east side. As I made my way to the FCT I spotted 2 falcons on the lower white section and it looked like one of them had food.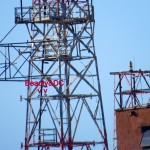 As I arrived at 9:40am I caught a glimpse of a falcon fly off FCT to the west as I parked on Church St. in front of the Hochstein School of Music. I could see that DC was up on the beam that goes to the large satellite dish on the east side.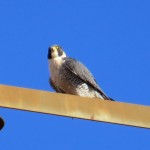 I'm pretty sure it was Beauty that flew off but she must have snuck back while I was watching DC for he started looking below him at one point. I couldn't see anything until I got a different view from Fitzhugh St. and sure enough there was Beauty and she was eating. She always gets his attention when she has food!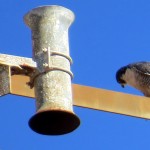 <DC  Beauty>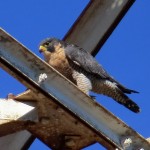 Make sure to click on my pics to see the full version
10 minutes later DC flew off to the west and returned with his own breakfast and replaced Beauty on the same spot she had been eating after she gulped down her last bite and moved to the north side at the same level as DC.
Beauty had quite the full crop and was not the least bit interested in what DC was eating as she moved over into the shade and started napping.
I shared space with our downtown Peregrine pair until 10am thus ending my watch with a smile! 🙂
Click on the links below to see more pics and videos
http://share.shutterfly.com/action/welcome?sid=0AaN3DFm0ZMWqir-
http://youtu.be/cVY0qOBMAE
http://youtu.be/Rq8wKpSKgu8
http://youtu.be/NDYOJFlEsG4
http://youtu.be/i_OqTO-TDts
http://youtu.be/0J9c_kvVihM
http://youtu.be/R6dJ8097jRw
---