Morning watch 4-15-11
By Rochester falcon watcher MAK
My last report started with me feeling bad for Beauty watching and waiting for Archer from the Frontier Communications Tower. This morning I find myself feeling the same way for Lady Pefa at Kodak Park. When I first spotted her she was on the tall still railing facing and looking toward downtown.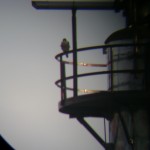 Archer had undoubtedly just left her for I had come to KP looking for him as he was not anywhere downtown that I could see. I had arrived on the Broad St. bridge about 6:15am and after an hour of seeing no falcons decided to check out Kodak Park for Archer and Lady Pefa. Upon my arrival there Donna texted to me that he had indeed showed up at the nestbox on the Times Square building right after I left the downtown area. He is a sneaky little guy that Archer.
From the still Lady Pefa flew to the southwest corner of the blue building and sat awhile.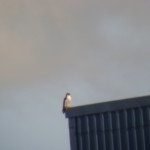 Lady Pefa flew back to the still and as she landed on the railing I caught a glimpse of a male Kestral which landed on the chain link fence in front of me. He soon took off as I was trying to line my camera up in my scope for a pic.  Shortly afterwards LP stooped off the still and I failed to see her come back up so I waited. She suddenly appeared on the corner of the blue building again. Her next move was to the ibeam in front of the pigeon poop hole(possible nest/scrape site) for a couple minutes and then back to the tall still.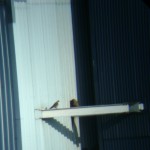 I had to leave for a doctor appointment at this point but when I was done I headed back downtown. I decided to stop on the Andrews St. bridge for a change and it turned out to be a good call for as soon as I got my binocs to my eyes I spotted a falcon flying between the OCSR and Crossroads buildings. It was Archer and he flew to the west corner of the OCSR top ibeam where Beauty was waiting for him. They mated and both flew off around to the south side of OCSR where I couldn't see them.
I then drove to Aqueduct St. where I found Archer on the top ibeam near the west corner of OCSR. Donna texted to me that Beauty had flown back to the nestbox. After a few minutes Archer flew to the south corner top ibeam of OCSR and that is where I left them as I ended my watch.  🙂
Here's a link to more pics from my morning watch:
http://www.kodakgallery.com/gallery/sharing/shareRedirectSwitchBoard.jsp?token=433958312213%3A794327277&sourceId=533754321803&cm_mmc=eMail-_-Share-_-Photos-_-Sharee