Morning watch 4-18-11
By Rochester falcon watcher MAK
I started the first 30 minutes of my watch waiting for Beauty to appear when I decided to take a ride around in search of…  I found the Beautyful one on the HSBC building southeast corner eating prey.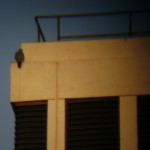 It wasn't long after, that she flew off to the north(right looking at pic) out around to the other side where I lost sight of her.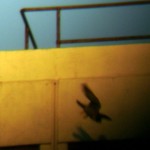 I drove back to the Broad St. bridge where I witnessed a crow fly down to and tap 1 of 2 ducks that were flying over the river and then chased them both away from the Rochester Convention Center area. Donna let me know that Beauty and Archer had switched in the nestbox. I then noticed a little white spot over on the OCSR building top ibeam southeast side.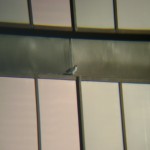 I drove down to Aqueduct St. for a closer look and spotted the little white feather on his right wing…it was Archer and he was plucking feathers and eating something.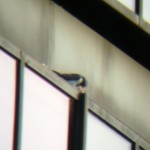 He flew off over the river then back between the OCSR and Thomson Reuters buildings out of my view. I thought he went to the nestbox because when I looked in that direction I saw a falcon fly up to and over the nestbox but it looked like Beauty to me judging by size. Meanwhile DebbieH had come by so I was a bit distracted and it was time for me to be getting the truck home for Sue. So when I saw a falcon fly to the base of Mercury and land on the side of it that I couldn't see I decided to leave before I got a look at who it was for sure. Donna said Archer and Beauty switched at 7:42am so Archer would have been in the nestbox and Beauty the one that flew to Mercury. Phew, sometimes it can be quite challenging to keep track of who's who and what's what when they fly behind buildings.   🙂