Easter watch
By Rochester falcon watcher MAK
Happy Easter and I hope everyone has a blessed day!
I'm not sure what time I arrived downtown but Donna reported Archer leaving the nestbox at 6:30am. I missed it while I was putting peanuts and bird seed along the cement below the railing on the Broad St. bridge.  It was a lack luster morning watch for me falcon speaking but I did have some crows and starlings come along to grab up the goodies I left.
It wasn't until about 8:00am almost 2 hours after I arrived that I saw Beauty fly to Mercury and land on the outstretched money bag hand. She preened, looked around for less than a minute and then flew over to the nestbox and entered it to resume egg sitting duties.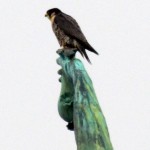 I had to leave at this point for a breakfast date with one of my nephews. I never did see Archer.
After breakfast Sue and I stopped by Kodak where we found Dana and Lady Pefa hanging out with each other. Lady Pefa was on the tall still second railing down on the west (left) side.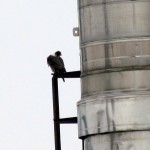 We stayed only a few minutes and headed out. Below is a link to pics from today. Enjoy!  🙂
http://www.kodakgallery.com/gallery/sharing/shareRedirectSwitchBoard.jsp?token=774043912213%3A1592132975&sourceId=533754321803&cm_mmc=eMail-_-Share-_-Photos-_-Sharer