Morning watch 11-27-13
By Rochester Falcon Watcher MAK
Zowie-what a start to the day I had! Phone line down and draped across the top of my car and 6 inches of very wet snow to clear from the driveway.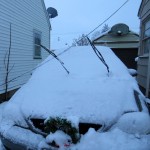 Click on my pics to see full version
I got her done and was maybe an hour later than usual to start my morning watch. It was 33 degrees (F) 1 (C) very dark and overcast with very light snow falling as I pulled out of the driveway.
I was thankful that I didn't have to search for Beauty and Dot.Ca as they were both near the south corner top ibeam of OCSR very close together when I arrived on the Broad St. Bridge at 7:45am. The roads were clear of snow but not the parking lanes so I went down to the hole. First I took pics of the snow covered Times Square building and Mercury.
I then drove down to Graves St. across Main St. from OCSR for an even closer look at the dynamic duo. They both had their backs to me but I didn't care, they survived the storm and that's all I cared about!
Now to check the Brighton Site for Pigott, but on the way I couldn't help but take some pics and a video of the beautiful snow covered scenery of the Mt. Hope Cemetery and Highland Park.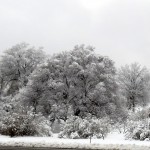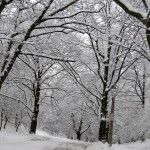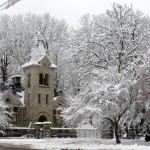 I will provide a link to see more like these
So I made it to Brighton but Miss Pigott was not around as she sometimes isn't when I go in the morning. I hung out for half hour or so but she was a no show. I returned to downtown finding Beauty on the 2nd ibeam southeast side of OCSR eating and DC on the 3rd ibeam down at the south corner looking for prey to fly thru. I started out parking in the hole and ended up at my spot by the Radisson Hotel and Main St.
While I was watching Beauty clean up after her meal DC snuck off his spot and when I looked his way he was now on the 2nd ibeam (same as the Beautyful one) with what I believe was cached food. I couldn't help but notice the reflection of Mercury on the OCSR windows-I love seeing that. And I wondered if they had spent the night in the elevator shaft out of the snow storm with the elevator up at the top of the shaft.
Beauty settled in with a full crop and DC finished his little chunk of meat so I ended my watch at 9:30am with a smile knowing they both had eaten! 🙂
Click on the links below to view a snowy photo album and some videos
http://share.shutterfly.com/action/welcome?sid=0AaN3DFm0ZMWqi-M
http://youtu.be/BIX15SrGJwQ
http://youtu.be/ijIT–uD-D0
http://youtu.be/NfAfcxpeesM
http://youtu.be/Y1xIrTBZmP0