Wednesday Falcon Watch – 11/27/13 – Pre-Thanksgiving Snow Storm
By Rochester Falcon Watcher Carol P.
2:30 – 4:30 pm
Rochester was covered in snow today.  Lots of folks lost power this morning after a snow storm hit Rochester overnight.  I got out of work a little early and took advantage of a bit more daylight than I am used to.  My first stop was downtown Rochester.  I looked around and could not find either Beauty or Dot.ca.  So, I parked on the Broad St Bridge and waited for them to come to me.  While I waited, I took a few pics of the still snow covered familiar Rochester Falcon landmarks.
*
*
*
*
It didn't take them to show up.   First Beauty flew in from the east and landed on the top Ibeam on the south side of OCSR..  Dot.ca was right behind her, landing just to her left.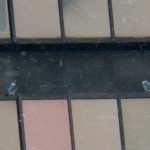 *
*
*
*
*
My next stop was the BS location, where I hoped to find Pigott.  I circled the building a couple times, but had no luck finding her.  I parked on the south side of the building to keep watch.  Kathy O joined me. We were entertained by a whole lot of hungry Crows that decided to finish the apples on a nearby apple tree.  The Crows in the tree would take bites of apple and knock them out of the tree to their friends below.
*
*
*
*
At approximately 3:45 pm, a falcon flew in, clutching food in its talons.  We can't be 100% sure, but Kathy and I believe that this falcon was Dot.ca.  He attempted to land on the snow covered south side vent 6 times. Obviously he did not want to land in the snow.  He tried to land at different spots on the vent and each time he would immediately take off again.  After the 6th try, he flew up to the southeast corner of the southwest extension.  But, he didn't like that either and took off again, hovering over the building before flying to the north side where we lost sight of him.  Both Kathy and I circled the building attempting to find him.  Neither of us did.
*
*
*
*
During the time Dot.ca was flying around, there was no response from Pigott, so we had to assume that she was not home.
It was time for me to head home, via the Lake Ontario Route.  I checked out Hawk-eye, the Charlotte/Summerville area and Russell Station.  No luck finding Billy or any other falcons along the way.
I would like to wish all of you a very Happy Thanksgiving.  Enjoy your day with family and friends and safe travels to you!
I'll leave you with a few pics I took during my watch.  Please be sure to click on any pics you would like to see larger.  Goodnight!
*
*
*
*