Wednesday Falcon Watch – 1/29/14 – Another Below Zero Wind Chill Day!
By Rochester Falcon Watcher Carol P.
During my late afternoon watch it was 12 degrees (F) with a wind chill well below zero.  The winds were really gusting!
Earlier today, around 10:00 am, I spotted the KP falcon on the east side of the east stack on the silver box next to the red light above the lower catwalk.  This was the 2nd morning in a row that I've seen this falcon on that same spot.
*
*
*
*
After work, I checked the KP area again, but I couldn't find the KP falcon.  So, off to the BS location where I found Pigott hunkered down on an east facing window below the tree ledge.  The winds were whipping around the building.  I looked for Dot.ca, but could not find him.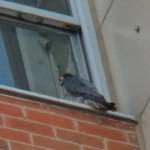 *
*
*
*
*
Downtown was my next stop.  From the Broad St Bridge, I watched the pigeons swirling around above the river.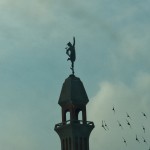 *
*
*
*
*
I thought that maybe a falcon was the cause, but I couldn't see one.  So I headed over to check out the OCSR elevator shaft and found Beauty tucked safely up inside on the south ledge.
*
*
*
*
I didn't see Dot.ca, but I was happy to find Beauty and Pigott.
I'll leave you with a few pictures of some beautiful frost art.  These were on the windows at work this morning.  There was quite a crowd taking pictures of the gorgeous patterns.  Enjoy!
*
*
*
*