Morning watch 1-29-14
By Rochester Falcon Watcher MAK
For the 2nd day in a row the starting temperature for my watch was 0 (F) -18 (C) and the wind made it feel way colder as I had trouble keeping my fingers warm today and my camera had trouble focusing
Around 7:30am I spotted Beauty on the east side of the launchpad on Kodak Office (KO) and she was eating! It's very important for our falcons to eat so they can keep warm in this brutally cold weather. The red light on KO was still lit as I arrived and then the sun finally rose up from the horizon and cast its rays on the Beautyful one.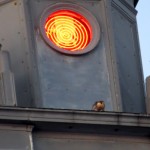 Click on my pics to see the full version

About 15 minutes later Dot.Ca (DC) flew in and joined Beauty on the launchpad as they exchanged words. She finished her meal off by swallowing a leg in front of him. She did some feaking on the edge of the launchpad and dropped off of it to fly away as DC and i watched.
A few minutes later DC went over to the northeast corner and got into hunt mode.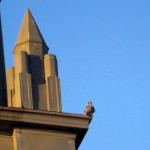 I stayed a few more minutes and left to see where Beauty might have gone. I didn't find her so off to the Brighton Site (BS) I went. Arriving there around 8:30am I found Pigott on the top window of the southeast extension in the corner where it meets the east extension.
She spent most of the  45 minutes I spent with her preening her chest feathers. She also checked out a Blue Jay and a Cardinal that came flying thru.
Just before I left Miss Pigott gave me a parting poop shot and threw me a glance over her shoulder as if to say- finally, some solitude around here! lol
I searched downtown with no luck at finding Beauty or DC  before ending my watch at 9:30am. Having seen all 3 resident Rochester Peregrine Falcons on my watch sent me on my way with a big old smile on my face! 🙂
Click on the links below to see our birds in action