Morning watch 1-31-14
By Rochester Falcon Watcher MAK
It was down right balmy as I stepped out the door today with a temperature of 33 (F)  1 (C) and overcast skies
With my second trip to the east side of the city I spotted Beauty on the northeast corner of  Bausch & Lomb eating as I was waiting for the traffic light at Chestnut and Broad St.  around 7:40am.  I viewed her at first from behind the Hotel Cadillac and Midtown but it was too great a distance for clear pics.
So I left there and parked behind some hazard cones on Broad St. next to Xerox which was a better spot to observe the Beautyful one.
She finished her meal off in about half  an hour then cleaned herself up by doing some feaking  before flying off to the north.
I drove to the Broad St. Bridge where I could see Beauty on the top ibeam southeast side of OCSR. I went down to the hole and then over to the Radisson Hotel for closer viewing.
I shared space with  Beauty until about 8:30am and then left for the Brighton Site (BS). I found Pigott on the northeast corner of the east extension and Dot.Ca (DC) under the roof top tree on the southeast extension. They both had full crops and were just chillin' on their spots.
DC did some leg and wing stretching while Miss Pigott watched over her territory.
DC mostly just perched motionless in one spot while Pigott did a little preening, stretching, rousing (shaking her feathers) and she pooped too!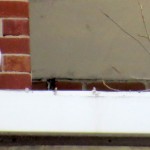 <Click it to see DC
I left them to digest their meals and checked OCSR on my way thru downtown and could see that Beauty was still on the top ibeam digesting her breakfast as well. I ended my watch at 9am content in knowing that all 3 resident Rochester Peregrine Falcons were seen and had substantial meals in them. Keep smiling! 🙂
Check todays videos by clicking on the links below
http://youtu.be/UqsXrNvBWxU
http://youtu.be/dHxluTy1Uag
http://youtu.be/4E4cThQSCz8
http://youtu.be/P53xjiUcFSo