Morning watch 3-26-14
By Rochester Falcon Watcher MAK
COLD please go away now! Another start to my watch in the teens 17 (F) -8 (C) to be exact, with overcast skies, a biting wind and lake effect snow flurries.
I got downtown to start my watch around 6:45am and after driving around a bit Beauty decided to show up on the southeast side of OCSR top ibeam around 7am.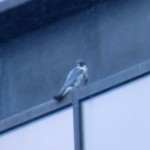 I was parked next to the Radisson Hotel by Main St. and 15 minutes later when I looked away Beauty flew off. I saw a bunch of gulls down river and beyond them it looked like a falcon flew to the Kodak Office (KO) tower so I drove over to State St. to have a look. Sure enough, Beauty was on the southeast corner of the launchpad. I parked down on Mill St. for the best angle on her as she had her back facing out.
At 7:30am I looked away for a second and the Beautyful one decided that was a good time to leave KO so I missed her again. On my way back to the Times Square area I got reports from Donna and Annette that Dot.Ca (DC) was at the nest box. Donna said he had food for Beauty.  I was about to pull over in the hole when I spotted DC flying above me heading east toward the river. Annette reported bonding at the scrape just before DC flew over me. Thanks for your help ladies! Parked behind Keybank I couldn't believe my luck as I watched Beauty fly to the southeast corner of the Wilder building green strip right in front of me. Beauty started eating the food DC had given her at the nest box.
Beauty spent about 10 minutes there finished eating and cleaned off her beak a couple times before taking off with a lot to say as she went.
Beauty landed on the south corner top ibeam of OCSR and put her tail up as DC came flying in. Just as I thought they were going to mate DC instead landed next to Beauty a couple feet away at 7:45am.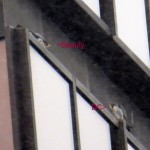 The snow was coming down too hard to see them very well so I thought I'd go check on Pigott at the Brighton site (BS). I had spoken to KathyO last night after her watch and she had thought it odd that she and CarolP hadn't seen Miss Pigott. I suggested that perhaps Pigott had laid eggs and was in the cubby with them. (we can't see in the cubby) Wherever she was we agreed that her behavior in the last week or so has been different. I arrived at BS around 8:10am and at 8:30am there had been no Pigott sightings. I had to go somewhere and when I returned a little after 10am there still was no Pigott.  Stay tuned!
I went back downtown to find DC on the southeast side top ibeam of OCSR all by himself. Parked by the Radisson Hotel again I could see Kodak Office and when I looked with my binocs I saw who I assumed was Beauty on the southwest corner of the launchpad.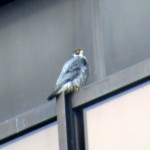 DC
I left DC to go to KO and make a positive ID that it was Beauty but she flew off as I got there heading south right toward the Times Square building. Less than a minute later, cam watcher NCAfalcon tweeted that Beauty and DC were at the nest box bonding. Thanks NCA! I opted to end my watch at that time about 10:35am happy and smiling as I was thinking about eggs coming soon! 🙂
Click on the links below to view todays videos