Morning watch 4-25-14
By Rochester Falcon Watcher MAK
It was 43 (F) 6 (C) and overcast when I stepped out for my watch this morning butas I made my way down 490 I could see the sun coming up over the horizon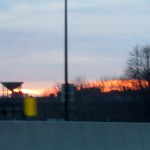 <Click it
Dot.Ca (DC) had relieved Beauty of incubation duties around 5am so when I arrived downtown I looked for Beauty and found her on the base of Mercury around 6:20am. I parked in the hole and 15 minutes later the Beautyful one took off for the nest box.
I missed DC exit as Donna let me know he left the nest box-thanks! I spotted him atop the Mercury Money Bag (MMB) -he was just looking around his territory and preened a bit. I parked up on the Broad St. bridge to watch him
At 7:03am DC spread his wings and flew off  going past Times Square on the south side and out of view.
I stayed put and a few minutes later I saw DC fly to the top arm northwest side of the jail tower.  After 10 minutes DC stooped to the west and that was the last I saw of him.
I took a ride around checking the usual spots didn't find DC so I went and checked the Brighton site. No falcons just Canada Geese on different parts of the roof. I returned to downtown but couldn't find DC so I ended my watch at 8:15am as I was to start moving into Seneca Towers today. I was happy to have seen both Beauty and DC which sent me on my way smiling! 🙂
Click on the link below to view my one and only video today