Morning watch 4-26-14
By Rochester Falcon Watcher MAK
Starting temperature this morning was 4o degrees (F) 4 (C) with overcast skies
On my way downtown cam watcher Annette (thanks) reported a switch at the nest box-Beauty out and Dot.Ca (DC) in. When I arrived in the hole about 6:30am I saw Beauty leave the nest box area start to land on base of Mercury then pull up and fly east. A minute later she showed up on the top ibeam southeast side of OCSR and immediately started preening. She just got up from a long night on her eggs and had to wash her face and clean up for the day just like us don't ya know!
At one point in the next 45 minutes she started looking my way because there were pigeons right behind me! She also tried to extract a pellet on 2 separate occasions.
At 7:14am the Beautyful one flew off flying very fast following the river heading southwest toward the Cornhill area. I lost her behind the Blue Cross Arena.
I tracked her down from Woodbury St. on the east side near the Geva theater-she was on the northwest corner of the HSBC railing.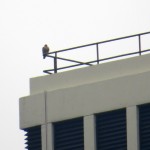 I managed to get one pic before she was off flying west-I looked around for Beauty but couldn't find her so I left to check the Brighton site. I didn't see any falcons there. Fellow falcon watcher Larry tweeted that he saw a falcon on cam 1 and that it left-a minute later Annette tweeted that Beauty came in and relieved DC from incubating their eggs. Thank you! I returned to downtown but couldn't find DC. I did however, see a Turkey Vulture floating above the Powers building and then behind Times Square. The fact that DC didn't chase it out of the territory makes me think he left the area to hunt. I caught up with Larry before we both had to get going. I was sorry I didn't see DC but I still had reason to smile as I spent close to an hour with Beauty! 🙂
One link below of Beauty click on it to view