Harlequin banding 6-21-11
By Rochester falcon watcher MAK
Lynda and Tim picked Joyce and I up at my house and we left at 8:05am for our trip to Toronto for the banding of Harlequin. Our first stop was the Burlington bridge where we saw both adults, Cirrus and MacKenzie and 1 juvie.
We stayed for about 40 minutes and decided to go straight to Harlequin Enterprises for the banding event just in case we ran into traffic issues. When we arrived I went right to work taking pics of the surroundings and buildings there to give everyone at home a better perspective of how things are laid out.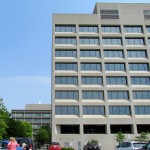 This pic is from the parking lot of Harlequinn and the building in the background is the one the nestbox is located on the 6th floor. We went up to the 5th floor of the Harlequin building where the banding would take place. We were given red bracelets serving as our ID for getting in and out. We took pics and did the meet and greet stuff while we waited for the banding to take place. The CPF folks brought their educational birds to entertain the people attending the banding.
I went back outside to view Quest as the scaffolding was ready to be raised to the nestbox. She got very close to them on either side but didn't dive bomb them at all. First time jitters perhaps. Next year may be a whole new ball of wax.
At this point I was getting a bit frantic because there had been no sighting of Kendal all day and when I got back up to the banding room I went to Tracy from CPF with my concerns and she knew what I was going to say before I even said it. She said she would be checking the rooftops as soon as the banding was over. Luckily that was not necessary for at the very end when the guys were putting little Harlequin back in the nestbox Kendal showed himself and we all gave a big sigh of relief and a cheer.
After the banding festivities we decided to go see Linn at the yellow pages building where we saw Linn and 2 juvies on the ledge above the nestbox. They will be fledging there anytime now.
Our next decision didn't turn out so good for it was rush hour in the big city and we went to check out the Sheraton site with Rhea Mae and Tiago. Traffic was bumper to bumper on every street with no parking anywhere. I managed to see one adult flying above the nest site and Joyce saw a juvie hanging out on the ledge but that was it as we drove out of there. It took over 2hrs. start to finish to navigate our way through the big and busy city of Toronto. This was our last falcon sighting of the day before we headed on home with a total of 11 falcons being seen on this day.
I'd like to thank  Harlequin Enterprises for the invitation to the banding and as always all the folks from the Canadian Peregrine Foundation for all their efforts as well as the Ministry of Natural Resources(the Canadian version of the DEC here in the states). It was an honor and privilege to  take part in this banding event. I also want give my warmest thanks to Tim and Lynda who graciously drove Joyce and I to this special banding event. I love this little falcon family with all my heart and I so enjoyed taking pics to share with everyone! Enjoy! 🙂
Here's the link for my banding day album: