Morning watch 7-19-11
By Rochester falcon watcher MAK
On an overcast,very muggy and dark morning I found the Beautyful one on the southwest  corner of the HSBC building. I was surprised because I've only seen her on the southeast corner lately. She put a smile on my face none the less for any day started with nature is a good thing! While I was trying to find a good vantage point she flew off heading toward the Times Square building. As I approached on the Broad St. bridge I could see Beauty up on the front perch of the nestbox. I saw her go in the nestbox and didn't know at the time that Archer was in there (reported to me by Donna-thanks for the help)as you can't see them from the bridge when they go in. Soon after she went to the front perch on the deck.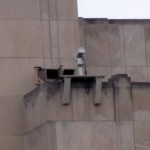 I missed not only Archer leaving but Beauty as well! They always sneak away on me when I take time to blink! lol So I backed the truck up to where I could see the Frontier Communications Tower and spotted a falcon on the southwest corner of the platform railing. Upon arriving and taking a pic to be sure I was able to ID it as Beauty.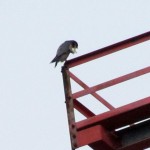 She was facing north scratching her head… probably wondering why Archer always has to go over to Kodak Park with Unity and not stay home where he belongs. Anyway, I watched her hunching forward many times trying to bring up a pellet without any luck followed by a poop.
I thought she would leave since they usually do after they poop but not this time. She worked some more on getting that pellet up and out when suddenly she flew off very fast to the west-southwest and out of sight behind buildings. I had to get the truck home at this point so where she went is anybodys'  guess. Due to transportation reasons my morning watches will be but an hour long for an undetermined period of time. Hopefully Beauty and Archer will cooperate by showing up in that short amount of time. Remember to keep your eyes to the sky!  🙂