Thursday Evening Falcon Watch – 10/30/14
By Rochester Falcon Watcher Carol P.
5:00 to 6:30 pm
It was 47 degrees (F) this evening.  Just before I left home, I received a tweet from Joyce that she had spotted an adult Peregrine Falcon at the BS location.  It was eating on the building.  According to Joyce it looked like it might be Dot.ca, but she needed to check her pictures later for a better look.  It would not surprise me at all that Dot.ca still visits this location.
I decided to head downtown to see if I could find both Beauty and Dot.ca.
From the Broad St Bridge I spotted a bird on top of the Mercury statue.  Definitely NOT a falcon.  lol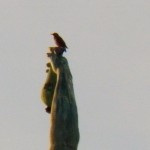 *
*
*
*
*
Continuing my search, I found a falcon that I believe was Beauty on the south side of the Xerox Tower, 5th column in from the southeast corner.  She was facing southeast.
*
*
*
*
At 5:52 pm, Joyce and Brian reported that Billie and 99 were at the ST location.
At 5:55 pm, Beauty took off and headed northwest towards the Times Square Bldg.  By the time I made my way back to the Broad St Bridge, she was nowhere in sight.  I drove over to the Radisson and looked up into the OCSR elevator shaft.  It was dark up there, but I could just make out a falcon moving around a bit on the north side ledge.  The south ledge was empty.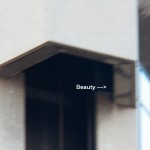 *
*
*
*
*
I parked near the Radisson and waited to see if Dot.ca would join her.  He had not returned by 6:25 pm and I tweeted out that I was going to end my watch due to darkness.  Just as I was getting ready to leave, ee-chups echoed from inside the elevator shaft. It was too dark to see anything, but I have no doubt that Dot.ca had joined Beauty at their nighttime roost.  It was time for me to go.
Goodnight everyone!