Morning watch 10-30-14
By Rochester Falcon Watcher MAK
The conditions were changeable today with sun and clouds and a starting temperature of  42 (F) 5 (C)
Click on the pics to see the full version
It wasn't until 8:10am that I found a falcon this morning when I spotted Beauty on the southeast corner of the Kodak Office launchpad. She had her back to me and I tried a couple different spots before I found one on State St. where I could see the side of her and the sun was out by then as well.
She stayed there for 10 minutes mostly preening and then she pooped before flying east at 8:19am.
I took a ride thru Browns Race and saw a pretty planter with mums in it that were still looking bright and vibrant.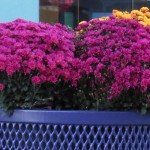 I spotted  the Beautyful one under the southeast wing of the Times Square building (TSB) from the Andrews St. bridge.
I drove down to Exchange Blvd. and  parked in front of the Blue Cross Arena (BCA) to observe. Beauty had her back to me for the most part but she did turn around long enough for one beautyful pic.
I watched Beauty for about half hour then I went to get coffee and when I got back she was gone. I drove around looking for her and Dot.Ca (DC) plus I checked out the river. Just before 9:30am I spotted beauty under the southeast wing again only this time she had food.
Since she was busy eating I thought I would look for DC on my way out of downtown and luckily he was on the southeast corner of the Kodak launchpad. I pulled over on State St. to watch him as I did Beauty earlier.
He was very actively watching over his kingdom. I shared space with him as he did some posing and preening.

DC stayed up there facing the sun which kept fading in and out behind the dark clouds that were moving in and at 10:10am he flew southeast and didn't return.
I ended my watch at 10:40am when I got to Seneca Towers-nobody was there but I did see both Billie and 99 in the afternoon when I returned home from walking Bella. They were facing each other on the top window ledge on the south end of Seneca Towers, prompting me to smile for having seen all 4 Rochester Peregrine Falcons today! 🙂
Click on the links below to see todays videos
http://youtu.be/SE985P9pwg4