Morning watch 11-24-14
By Rochester Falcon Watcher MAK
When I left for my watch this morning it was a balmy, breezy 59 (F) 15 (C) degrees the sun made its way up to shine and blue skies prevailed
Click on my pics to see the full version
There were no falcons at Seneca Towers as I began my morning watch-as a matter of fact, there were no falcons downtown either until nearly 8:30am. I searched the city many times until finally Dot.Ca (DC) appeared under the northeast wing of Times Square (TSB). He didn't exactly greet me with a smile as he lifted his tail feathers to poop! lol The wind was blowing his feathers pretty good and I thought it might blow him to the next county after a couple gusts.

Sometimes it looks like DC is posing for my camera and when the sun shines on his whiteness it can almost be blinding.
I got to share space with DC for about 40 minutes when he decided to fly west at exactly 9am.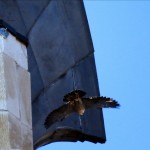 10 minutes later I found DC on the northeast corner of the Kodak Office launchpad.  Unfortunately, I wasn't able to find Beauty this morning.
I left DC basking in the sun and headed home. Now that the trees are bare I can check the south and west side of Seneca Towers (ST) from St. Paul St.-nothing seen so I drove further down to the Northridge Church parking lot where I check the east and north sides of ST. Just as I got there I spotted a falcon flying in from the north-it looped around and back to the northwest corner where it landed. A shot of its leg bands showed yellow tape on the right leg so I knew I had 99 in my sights.
99 moved to his left a bit getting off the corner-I imagine because the wind was so strong. He then went back out to the corner and flew off going into a stoop down toward the river gorge.
I called it quits at 9:45am after an all boy morning watch which left me smiling! 🙂
Click on the links below to see todays videos
http://youtu.be/JRfh_a0pZKc