Morning watch 11-25-14
By Rochester Falcon Watcher MAK
It was a very dark overcast morning with a temperature of 43 (F) 6 (C)
Click on the pics to see the full version
Right out of the gate today I heard a falcon vocalizing as I crossed the parking lot to my car at Seneca Towers. I looked up but didn't see it anywhere on the east side, nor did I see one as I left and checked the west and south sides. Onward to downtown where I found Beauty on the top ibeam southeast side of OCSR.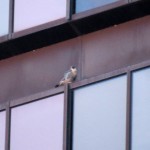 I left her to look for Dot.Ca (DC) but wasn't able to locate him and when I returned Beauty was gone. I did see 2 Black-crowned Night Herons in the big tree at Aqueduct Park so I took a walk down there to check them out.
Right around 7:30am Donna tweeted that DC was on the nest ledge. Thanks Donna-with all the leaves gone I was able to see him thru the trees.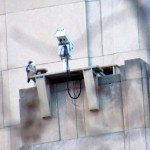 As I made my way up to the hole I saw DC fly from next to the main cam around to the back of Times Square (TSB).  He came to rest on the north side near the northwest corner and soon after DC flew back around to the front  of the building landing under the northeast wing, then off again to the north out of sight.
I went north too and came upon both Beauty and DC on the Kodak Office (KO) launchpad. He was on the northeast corner and she was in the middle of the east side. It looked like she was eating something from behind as she had her back to me as I was parked on State St. near Platt St.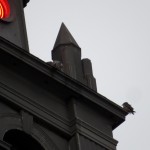 DC turned around so I went further up State St. just past Brown St. where I could see the front of them. At 8:07am DC went off into a stoop heading north at break neck speed straight down State St. and as he reached Jay St. he hung a left and flew out of view.
Beauty had flown off too and when DC returned to KO they circled around KO together presumably looking for prey. Beauty landed on the northeast corner of the launchpad with food. She walked back to the spot on the east side where she had previously been with the food in her talon.  DC landed on the northeast corner right after she moved.
DC flew off after a quick look at the food Beauty had and landed on the southeast corner  to watch the Beautyful one as she plucked feathers.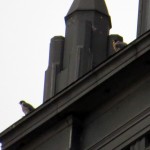 DC walked toward Beauty and she turned her back to him, so he flew off around the building and returned to the southeast corner.  Every time DC made a move toward Beauty she turned her back to him-he went from one corner to the other. It was pretty darn funny to witness as he tried to sneak up behind her a couple times and give up when she turned to face him and thwart his attempts to get some grub.
Beauty settled on the northeast corner and watched Beauty eat for a few minutes then he turned his back on her.
At 8:26am DC took off again leaving my field of vision-I caught a glimpse of him flying below the southeast corner at which point Beauty stopped eating and walked over to the northeast corner of the launchpad. She feaked and pooped then walked half way back stopping between her leftovers and the corner.
Suddenly around 8:45am DC returned to grab the leftovers and took them to the southeast corner to eat as Beauty watched. This is where I left them as I had to get a couple teeth pulled and had to get going.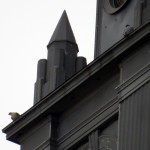 When I arrived at Seneca Towers I spotted a falcon on one of the the south end antennas as I pulled into my parking lot. At first I thought it was 99 but when it flew off a couple minutes later I knew it was Billie, as it was much too big to be him. She flew down the west side toward the northwest end out of view.
I ended my watch at 9:10am with a smile after a very entertaining watch! 🙂
Click on the links below to see todays videos
http://youtu.be/NeDG5ZKHO7c