Morning watch 12-24-14
By Rochester Falcon Watcher MAK
It was a balmy 49 (F) 9 (C) with a slight breeze to start and light rain falling. Overcast throughout my watch but the rain stopped and the wind steadily increased
Click on the pics to see the full version
For the 4th day in a row I started my watch at Seneca Towers. As I got settled on Seth Green Drive, Billie was settled on the west side railing.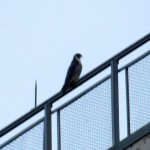 At 7;45am 99 flew in from the south and landed close to his girl-they did a quick bow then stay perched for the next hour.
They seemed more interested in looking at each other than looking for breakfast. Each of them took turns stretching and turning around and back.
Buffalo Billie did most of the stretching as a squirrel came down a tree to check me out. Billie turned her head sideways to watch 99 poop-very funny!!!
Billie spread her wings and flew south at 8:40am and about a minute later 99 dropped off the railing and into a stoop as fast as missile down the west face of Seneca Towers and out of sight.
I left for downtown when they didn't come back.  In the 45 minutes I spent searching downtown for a PEFA I found some nice decorations on Alexander St.

At just about 9:30am as I was pulled over on the Andrews St. bridge, I noticed a falcon on the top ibeam north corner of OCSR. I drove down to State St. for a closer look but all I could see was its back.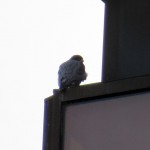 This wouldn't do-I had to see more to ID it so I crossed the river  to look from Bragdon Place by the Radisson Hotel where I was able to identify this falcon as Beauty.
She seemed like she was looking for DC to show up-I know I was, as she preened and kept an eye out on her territory.
Beauty flew southeast at 9:55am and I followed in the same direction. Leading me to the Broad St. bridge where I saw the Beautyful one flying above Xerox. I went over to Court St. across from the Court St. garage to be closer. I shot a video of her flying until she left my sights.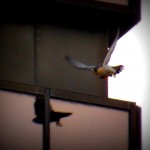 Once I realized Beauty had left the area I made a u-turn and drove down to the Court St. bridge where I spotted Beauty and Dot.Ca (DC) circling the Times Square building (TSB). Beauty flew to the deck and DC landed under the northeast wing of TSB. I left for the hole and when I got parked on Basin St. I heard DC chirping but couldn't see Beauty, so I didn't know if she had gone to the nest box or left all together.
I stayed with DC for about 10 more minutes before wrapping it up and calling it a watch at 10:25am.
I left downtown smiling after spending Christmas Eve morning with our 4 Rochester Peregrine Falcons! 🙂
Click on the links below to view todays videos
http://youtu.be/fmrEwxHmlrY