Christmas morning watch 12-25-14
By Rochester Falcon Watcher MAK
It was a windy but warm, overcast morning with a temperature of  43 (F) 6 (C)
Click on the pics to see the full version
I would have liked to see Billie and 99 this morning at Seneca Towers when I left home but it didn't happen. I did however see Beauty and Dot.ca (DC) which was a great gift! I checked the elevator shaft first but didn't see anyone up in there as I was parked at the Radisson hotel by Main St. I spotted a falcon with its back to me on the top ibeam southeast side of OCSR. I thought it was DC but can't say for sure.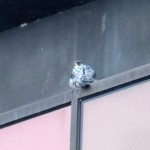 I left for the hole to get a front look but he was gone when I got there, I heard vocalizing but couldn't see anything. I thought both falcons must be around since they don't really talk to themselves. So I took a ride to the east side and shot a couple pics- the first one is a window at St. Mary's Church and the other is the Times Square lobby.
Just before 8am I saw Beauty on the top ibeam OCSR southeast side but she took off soon after without me seeing. I then made another trip around to look for the Beautyful one and DC and ended up taking more pics of St.Mary's church.
Once again I returned to find Beauty on OCSR in the same spot as before and once again I parked in the hole to watch her.
Beauty flew off over the river at 8:18am turned around by the Radisson Hotel and started heading back to OCSR. I heard DC start chirping at this time and I looked up to the top ibeam of OCSR  just in time to see Beauty land next to him.
DC was being active-stretching, scratching, preening while Beauty stayed perched with mostly her back to me and quite content to be next to her mate.
I had to be on my way so I left our downtown dynamic duo, ending my watch with a Christmas smile at 9am!
Click on the links below to see todays videos
http://youtu.be/7XGLKzHYz1A