Morning watch 4-7-15
By Rochester Falcon Watcher MAK
Another dark, overcast morning with a temperature of 34(F) 1(C) and calm winds
After stopping on the Broad St. bridge for a look around I headed down to Aqueduct St. in the hole where I promptly found Beauty on the Wilder green strip just before 7am. She didn't stay long, maybe a minute, before flying north to the west corner top I-beam of OCSR.
I left for State St. across from the Rochester Plaza Hotel to get a better angle on Beauty as I could only see her back from the hole. She did lots of preening, even pulled out a few white down feathers while she was at it.
I shared space with the Beautyful one for as long as I could before having to leave around 7:45am. I would like to have seen Dot.ca, but he was busy incubating eggs which I think he would rather do more than anything else in life.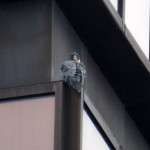 As I approached Seneca Towers on St. Paul St. I saw a falcon fly out from the south side roof and head east. I drove down East Ridge to look for it but came up empty. A friend of mine told me they saw a falcon flying near Rochester General Hospital the other day so our local watchers might want to add that to their places to check list. When I came back through, I pulled into the Northridge Church parking lot where I spotted a falcon on the north side roof above the windows with food.
This falcon looked big to me so I believe it was Billie-whoever it was they spent about 10 minutes eating before turning to fly off with the food down into the river gorge and didn't come back up.
I ended my watch at 8:30am when it didn't return. This afternoon, just like yesterday, 99 has been a busy flyer passing my window many times no more than 30 feet away from the building. This is my last watch for a while as I am having major surgery tomorrow. Until I return I'll have to find other things to make me smile like our beloved Rochester Peregrine Falcons do! 🙂
Click on the links below to view today's videos