Friday Afternoon Windy Falcon Watch – 4/10/15
By Rochester Falcon Watcher Carol P.
Rochester, NY was under a high wind warning today from 8:00 am to Midnight, with gusts up to 60 mph.  Needless to say my watch was VERY windy, with temps in the 60's (F).
When I left work, Beauty was in the nest box on the eggs and that's where she was when I arrived on the Broad St Bridge at 2:45 pm. Thanks for confirming Ei and Donna!  I quickly found Dot.ca, who was on the south side of OCSR on the top IBeam, near the south corner.
While things were quiet, I got out of my car to check out the river.  The river was running high and fast!  Here is what I saw from both sides of the Broad St. Bridge.
The winds were pretty intense.  I could feel spray from the river below.  Not much was flying, except a lot of garbage and some brave pigeons.  Most of the pigeons in view were huddled together on nearby buildings.  This was my view of the area from the south side of the Broad St. Bridge showing where Beauty in the nest box and Dot.ca on OCSR were located.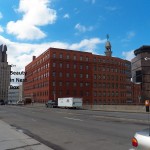 At 3:15 pm, Dot.ca was gone from OCSR.  I waited to see if he would return.  When he didn't, I drove over to the Andrews St Bridge to check out the other side of OCSR, the Frontier Communication Tower and Kodak.  I could not find him on any of these places.  I really wish I had stayed on the Broad St Bridge.
While I was looking back towards the south, I saw two falcons flying over the river near the Mercury statue.  One was chasing the other one, both heading down towards the river at a high rate of speed.  They both flew back up and over the Broad St Bridge.  I lost sight of them as they both headed east.  As quick as I could, I made my way back over to the Broad St Bridge and waited.  I had no way of knowing if Beauty was still in the nest box or not.
At 3:52 pm, I texted that a falcon flew by fast over me, heading directly to the nest box.  Her wings were tucked back.  This is the only picture I could capture of Beauty returning to the nest box.
Soon after Beauty entered the nest box, Dot.ca came in fast, heading towards the top of the Times Square Bldg.  I thought he was going to land, but he ended up returning to the top IBeam of OCSR, where he had been when I first arrived.  This was all in my 3:52 pm text.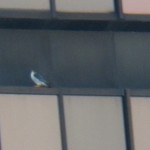 When I got home, I checked out the Rfalconcam Archives and saw that Beauty left the nest box in a hurry at 3:36 pm and returned at 3:43 pm.  I believe that she went after an intruder, another female based on size, that came in too close to Times Square Bldg, and that she chased it off to the east.  Both Beauty and Dot.ca returned from that direction.
When I left, a little after 4:00 pm, all was quiet; Beauty in the nest box on the eggs and Dot.ca on guard on OCSR.  I, and I am sure other watchers, will be out this weekend keeping an eye on the situation.  It looks like both Beauty and Dot.ca are working together to keep this 3rd falcon out of their territory.  I just checked the Rfalconcam Cameras and they show Beauty in the nest box on her and Dot.ca's 4 eggs.
Oh, and I was thrilled to hear from Kathy O that Rhea Mae laid her and Tiago's 2nd egg this afternoon while I was downtown on my afternoon watch!
Just before I ended my watch, five helicopters flew by on the north side of OCSR heading southwest.  That was quite a sight!