Rochester Falcon Watches Friday, Saturday & Sunday – 4/17, 4/18 & 4/19/15
By Rochester Falcon Watcher Carol P.
During incubation the watches will be very quiet, and that's ok.  My last three watches have been very quiet and peaceful, just how I like them.
Friday, April 17, 2015 (2:45 to 4:15 pm)
My afternoon watches have been especially quiet.  The only falcon activity I see is a possible changing of the guard.  Usually Beauty going into the nest box and Dot.ca coming out.  That's what happened on Friday.  Dot.ca was on the west corner of the top Ibeam on OCSR.  I set-up my watch at Falcon Watch Central, which is on Broad St close to the Times Square Bldg (TSB). From there I had a good view of the nest box and OCSR.
During my watch, I was joined by Joyce and Brian H.
Saturday, April 18, 2015 (10:30 am to Noon)
Downtown was really busy.  Every parking spot was taken on the Broad St, so I made my way down to Aqueduct St (aka 'the hole).  From there, I saw no falcons.  Kathy O arrived and found Dot.ca on the north side of the OCSR.  I joined her on the Andrews St Bridge.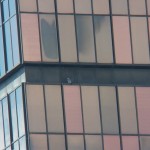 Since it was so quiet, we joined Dana at Seneca Towers, where it was also very quiet.  We did not see any falcons while we were there.
Sunday, April 19, 2015 (11:00 am to 3:00 pm)
I arrived downtown close to 11:00 am.  It was chilly (temps in the 40's), but the sun was shining.
I settled on the Broad St Bridge.  No falcons were in sight.  I saw a falcon fly out of the nest box at 11:20 am.  It headed east over the library. When I looked back at the OCSR, I saw a falcon at the south corner of the top IBeam.  At 11:25 am, this falcon flew into to the nest box.  Joyce texted me to let me know that Beauty was now in the nest box.  I waited to see if Dot.ca would return. When he didn't, I headed over to the BS location for a quick check at 12:10 pm.  It was very quiet there.  I headed back downtown ending up on Aqueduct St aka 'the hole'.
Just before 12:45 pm, I heard some falcon vocalization coming from the nest box above.  Beauty flew out and landed on the Wilder Building green strip.  Ei tweeted that Dot.ca had arrived and taken over incubation of the eggs.  Thanks Ei and Joyce for your help today.
At 1:00 pm, Beauty took off and headed southwest, behind the Times Square Building (TSB).
I went in search of Beauty, ending up on the Broad St Bridge.  I didn't find Beauty, but I did find my friend and fellow Falcon Watcher Dan S.  It was so nice to see him.  You know that the Falcon season has started when Dan comes out to watch.  🙂
Just after setting up our lawn chairs, we spotted Beauty on the OCSR top IBeam at the west corner.
At 2:00 pm, Beauty was gone from OCSR.  Then we saw a falcon fly over us heading east where we lost sight of it.  We believed that it was Beauty, but we missed that Beauty had entered the nest box and the falcon we saw fly over was Dot.ca.  The Rfalconcam cameras showed the switch at 2:01 pm.
Joyce joined us on the watch.  We chatted until 2:30 pm, when Dan had to leave.  I drove around downtown one more time to see if I could find Dot.ca.  I found him on top of the Xerox building on the west side, 5th column in from the northwest corner.
It was a wonderful weekend to falcon watch!  A big hello to the students in Jill's kindergarten class!  So happy that you are all watching the Rochester Falcons!  Enjoy!