Friday Afternoon Falcon Watch – May Day! – 5/1/15
By Rochester Falcon Watcher Carol P.
2:45 to 3:45 pm
I only had about an hour to go downtown and watch the falcons.  It was a beautiful afternoon; sunny, blue skies and temps in the mid-60's.  When I left work, Dot.ca had just taken over incubation duty in the nest box.  From Broad St (Falcon Watch Central), I found Beauty on the OCSR top Ibeam, south corner.
Beauty took off and headed for the nest box.
Beauty entered the nest box and Dot.ca flew out, landing on the west end of the top IBeam on OCSR.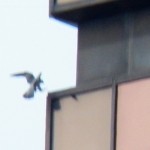 While I was watching Dot.ca, I was being serenaded by a beautiful Purple Finch.  Love these little ones!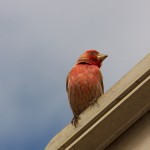 A line of Turkey Vultures flew by to the north, one passing behind Dot.ca who remained where he was.
Dot.ca (DC) never made a move to go after the Turkey Vulture, but when a Crow came to close, it was a whole different story. DC took off and chased the Crow, caught up to it very quickly over the Blue Cross Arena (aka Rochester War Memorial) and SMACK!  That Crow never knew what hit it.  The Crow recovered from the hit and flew back towards the Times Square Bldg (TSB).  Dot.ca continued to chase and dive on it, until the Crow went down on the roof of the condos that are directly across the street from the TSB.  Dot.ca flew towards the nest box, turned and headed towards Mercury and turned again.  He was searching for the Crow.  When he didn't find it, he headed back over to the top Ibeam on OCSR.  I assume that the Crow was in hiding.  Here are some of the pictures I got of Dot.ca and the Crow.
When I ended my watch at 3:45 pm, Dot.ca was back on guard duty on OCSR and Beauty was in the nest box incubating the eggs that will soon hatch.  All was peaceful and quiet.  Just how I like it!
During my watch a UFO aka strangely shaped balloon floated over.  I just liked it.  lol