Sunday Afternoon Falcon Watch – 5/10/15
By Rochester Falcon Watcher Carol P.
It's been very warm and humid in Rochester, NY the last few days.  Temps in the 90's!  So unusual for this time of year, when the regular temperature should be 65 degrees (F).  The good news is that it will be cooling down this week.
3 of the 4 eggs have now hatched.  Will #4 hatch?  We'll have to wait and see.
Many of the Rochester falcon watchers have been going downtown to check on the falcons, but there hasn't been much activity to report during this time.  One falcon is usually always in the nest box with the 3 eyases (and the egg) and the other is somewhere nearby.  Dot.ca is supplying most of the food, and sometimes Beauty does some hunting.  While the eyases are this young, Beauty is doing all the feeding.  When they get a little older, she will allow Dot.ca to also feed them.
I went downtown for a falcon watch this afternoon for a few hours.  Beauty was in the nest box the whole time and Dot.ca spent a lot of his time on the corner of the nest box platform guarding over his family.
From below, I could hear Beauty alarm kak from the nest box.  Both Dot.ca and I looked up.  I didn't see anything, and Dot.ca did not react.  I'm not sure what she saw, but she was quiet after that and Dot.ca seemed settled.
I ended my downtown watch and headed over to Seneca Towers.  I like to watch from the other side of the river from the apartments.
I spotted a falcon flying over the river and over to the Seneca Tower apartments, where it landed on the northwest corner.  I was not able to positively ID this falcon, but based on size, I believe it was Seth.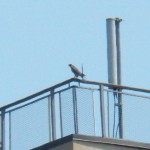 Last Saturday (May 2nd), Kathy O, Lisa McK, Dana and I went to Syracuse to check on Pigott and George.  When we first arrived, Pigott was on the building, very close to the nest box.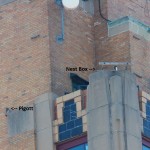 We had to take a break, and when we returned, Pigott was gone.  We believe that she was probably in the nest box and at that time on eggs.  We remained on watch in Syracuse for a few hours.  Later in the afternoon, George flew in and landed on the Chase sign.  We stayed a little longer, but there was no more activity.  We are still waiting to hear if there has been a hatch in Syracuse.