Morning watch 10-4-11
By Rochester falcon watcher MAK
It is with great sadness that I must tell you this will be my last report for sometime to come.  I will not have access to a vehicle and I will be having knee replacement surgery on Oct. 17 and won't be able to drive for awhile after that anyway. That being said on to my report.
To my surprise I found Archer on the Xerox tower this morning on the southeast corner column.
Less than 5 minutes later he was gone and I missed it! And  that's how it goes in the life of a falcon watcher sometimes. It would be some 45 minutes later before I spotted both Beauty and Archer on the top ibeam of the OCSR building west side. They flew off almost as soon as I saw them. About 10 minutes later I spotted a falcon on the jail tower from the Broad St. bridge. I whipped over to Troup St. for a closer view and could clearly ID it as Archer.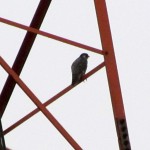 Donna texted me at this time to let me know that Beauty had been in and out of the nestbox quickly. I had seen a falcon fly up to, land and then go in the nestbox shortly after they both flew off the OCSR building but I missed anybody come back out. So it was the Beautyful one that I had seen up there. 5 minutes later as I approach the Times Square building northbound on Exchange street I could see both Beauty and Archer on the south side of Times Square. He was on the corner and she was on the next column over to his left 1 level lower than the nestbox.
It had begun to rain making for bad photo taking but I clicked away just the same!
Our downtown Rochester pair remained perched there for the remainder of my watch. I took a video of them which I will post the link for at the bottom of this report as well as the link for an album from my watch with some surprises I found along the way. Plus a bonus video of the raging Genesee River with some of it's inhabitants. I hope you enjoy these. As always I hope you have a great day and keep smiling until we meet again! 🙂
http://www.youtube.com/watch?v=6kfVbEmkGxY
http://www.youtube.com/watch?v=Y4eoOzjxoDM
http://www.kodakgallery.com/gallery/sharing/shareRedirectSwitchBoard.jsp?token=926469823213%3A752279935&sourceId=533754321803&cm_mmc=Share-_-Personal-_-Email-_-Sharer-_-Top