Falcon watch 10-5-11
By Rochester falcon watcher MAK
I didn't think I'd be getting out so soon to enjoy our Rochester falcons but my fellow watchers whom I adore came through in a BIG way yesterday. First Lynda came and got me around 7:45am. We headed straight downtown but couldn't find a falcon so we left to go to KP and try our luck there. Nope nobody around there either. We sat and chit chatted and then I scanned the stills with my trusty binocs and found Unity on the 2nd catwalk of the tall still. She was on the east side railing just barely visible at first. We moved farther east in the parking lot for a better angle and voila!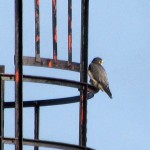 After a while she flew over to the blue building and landed on the corner of the black strip by the nook. And ended up scooting around the corner into the nook.
This is where we left her to go back downtown and look for Beauty and Archer again. We didn't find either one of them and Linda had to get going so she dropped me off home. Joyce called and asked if I'd like to go sit with her while her car got some maintenance done and of course I knew we would go watching so I said you know I do! When her car was ready we went to her house and picked up her dogs Casey and Abby,checked downtown for falcons with no luck and picked up Brian. Over to KP we went where we spotted Unity on the blue building towards the top.
While we were in lot 77 we got to see a Merlin fly over us and check out the dogs in the tall grass and then land on a pole.
What a beautiful background for this smaller version of a falcon! I love the fall colors! CarolP came by and as we were all standing around I saw Abby flush a bird out of the tall grass and alerted everyone to it. It landed at the other end of the parking lot on top of a pine tree. Woohoo my first ever sighting of a Meadowlark!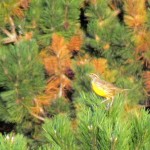 Carol said she was going downtown to check for Beauty and Archer before it got any darker so Joyce said why don't I ride along with her and she'd catch up with me after she ran an errand with Brian. Carol said come on MAK and off we went! As we approached downtown on State St. near KO we spotted a falcon on the FCT top arm. As we drove to the city hall parking lot we had Archer and the Beautyful one flying around and landing on the second arm. Beauty landed on the east side and Archer on the west facing each other. What a sight to behold when 24 hours earlier I didn't know when I would next see our gorgeous pair or if I'd even see Archer again before he migrated.
They flew off in a hurry to the eastern sky and out of view. We took a ride over to the east side and found one of them on the railing of the HSBC building northeast corner and this is when we decided to end our watch. As a parting gift here are a couple pics I took on our way down Broad St. as we were leaving the city from the east that I thought were pretty..
I want to thank Lynda,Joyce and Carol for giving me the falcon fix that I needed yesterday. You guys are the BEST and you and our Rochester Peregrine Falcons made me SMILE!  🙂