Morning watch 10-7-11
By Rochester falcon watcher MAK
Wow, 2 days in a row Joyce got up early and took me on a falcon watch. Thank you my friend!
Joyce relinquishes the keys to me cuz she doesn't want to deal with downtown traffic. Pffft piece of cake!  So we get downtown around 7:30am and from the Broad St. bridge I spot a falcon on the base of Mercury. Before we could ID or get a good look it flew off in the direction of FCT. So I drive over to city hall where we find Beauty on the FCT on her favorite perch under the platform.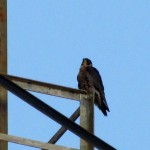 5 minutes later the Beautyful one flies off towards Times Square and sure enough Donna texted that both Beauty and Archer were at the nestbox. They didn't stay long for when we got over there we saw them flying together to the east. Archer came back in our direction and landed under the northeast wing of the Times Square building. The sun was shining magnificently on his bright white chest!
5-10 minutes later I noticed Beauty on top of the main cam. I told Joyce and we both laughed and said when did she sneak in? We both were so transfixed on watching Archer we missed her arrival completely!
And there you have it folks…another fast,fun fantastic falcon watch with Joycie. For more pics and a video go to the links below. Have a fabulous Friday and smile away! 🙂
http://www.kodakgallery.com/gallery/sharing/shareRedirectSwitchBoard.jsp?token=294747033213%3A108872214&sourceId=533754321803&cm_mmc=Share-_-Personal-_-Email-_-Sharer-_-Top