Morning watch 10-8-11
By Rochester falcon watcher MAK
I have to say that my fellow Rochester falcon watchers are the BEST! They have made sure I got in some falcon watching the past few days when I didn't think I would get out at all. THANK YOU!
This morning CarolP picked me up and we went downtown in search of the Beautyful one and Archer. We weren't disappointed for I spotted a falcon flying over on the east side of town. At the time we were on the Andrews St. bridge and we sat and watched the show until it stooped out of sight. We then went over to watch from the Broad St. bridge where we saw Archer on the northwest corner of Xerox with Beauty soaring above showing off her stuff for him.
Beauty was really giving us a show gliding and kiting(hovering) right above the Xerox tower. Archer was enjoying the show as well! When she left our view we turned our attention to the river where we found 2 adult Black-crowned Night Herons.
There were also a couple of Great Blue Herons one of which chased the other one away.
After an hour or so it was clear that Beauty and Archer had left us for parts unknown so we decided to go to Kodak Park and look for Unity. We found the gorgeous girl on a black part of the complex at the west end. We thought at first that it was too big to be her but we were able to confirm it was Unity.
She eventually stooped off the back of the building and we watched her fly down to the tall still and land on the north side of the top catwalk.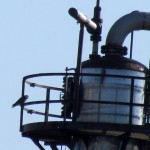 Dana came along and we all went up to lot 77 to view Unity. We had some geese fly by as we chit chatted.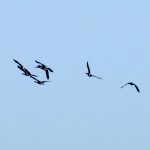 Unity stayed there for awhile before flying off and around the back of the power plant and returning to the tall still catwalk.
Miss Unity moved further over on the north side of the catwalk where we couldn't see her. Dana decided to go downtown and look for our dynamic duo and Carol took me home thus ending a very nice watch. For more pics and a video go to the links at the bottom of this report and have a glorious day so you can smile!  🙂
http://www.kodakgallery.com/gallery/sharing/shareRedirectSwitchBoard.jsp?token=378334133213%3A1350365621&sourceId=533754321803&cm_mmc=Share-_-Personal-_-Email-_-Sharer-_-Top