Morning watch 10-11-11
By Rochester falcon watcher MAK
Well I was on my 3rd day without seeing Beauty and  feeling quite bummed out when a text message came through on my phone from Joyce saying she was on her way to get me for a watch. Once again my friend comes through for me. Thank you so very much Joycie!
When Joyce got to my house she told me I was driving and off we went. When we arrived downtown no falcons were on the FCT or in the Times Square area so I drove onward to the east side. As we approached Xerox Joyce spotted both Beauty and Archer on the HSBC building northwest corner. She said oh MAK look, there they are and as I looked up we heard a loud pop! I had clipped the curb with the right rear tire and blown a big hole in it. Needless to say I felt horrible! I didn't have my AAA card on me so I couldn't call for roadside assistance. Wonderful right!? So we began to take out the jack and stuff to change the tire when a nice gentleman came by and assisted us. There are still nice people in this world! At some point we did see Beauty fly off with her prey in talons and go out of sight as Archer was long gone by that time. Needless to say when the tire was changed and we were on our way again I told Joyce she was driving. We went over to the Andrews St. bridge and as we were driving toward State St. I spotted Beauty on the FCT. So we went to the city hall parking lot where we had a few minutes to take pics before we had to leave so Joyce could get to work.
Notice the feathers floating in the air space above Beauty in the last pic. And speaking of feathers while I was taping Beauty Joyce went and grabbed feathers from the pigeon that had floated down to the parking lot.And here's a pic of them.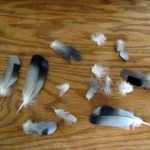 It was a sweet watch for me to see Beauty and Archer tho I was feeling bad about Joyces' tire. We left the Beautyful one on the FCT as she was devouring her breakfast. Go to the links at the bottom of this report to see Beauty preparing her meal. As always have a great day and if you look hard enough you can always find something to make you SMILE! 🙂
http://www.youtube.com/watch?v=IeXKjMhGd8Q