Morning watch 10-14-11
By Rochester falcon watcher MAK
Hello and boy am I ever missing my morning watches! Thankfully Joyce is helping me out every 3 days or so to get out before she goes to work. This may be the last morning report from me until I can get out again after rehabbing from my knee replacement surgery on Monday.I surely hope I can get  out this weekend to see any or all of our fabulous Rochester falcons one more time!
I got a text message from Joyce that she was stuck in traffic on 490 this morning but she was coming to take me on a watch. So I gathered up my binocs and camera and stood at the door ready to go when she pulled in the driveway. We had some trouble finding a falcon until Joyce spotted one on the jail tower. As I looked it flew off to the north. We agreed that it looked on the small side so it could have been Archer but there's no way of being positive. After no success in locating any Peregrines we then rode over to KP to see if Archer was over there. We really wanted to be able to verify that Mr. Archer was still in town. No such luck but we did find Unity. I spotted her on the north side of the east stack 2nd catwalk down. She was sitting on the railing.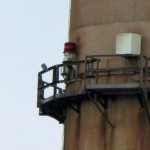 We were at the west end of the complex so it was quite a distance for pics. Almost as soon as I saw her there she spread her big beautiful wings and flew off to the northeast where I quickly lost sight of her.
As always click on the pics for a larger view. It was time for Joyce to be heading to work so we called it a watch. I sooo wish I had seen the Beautyful one this morning but I'm very thankful to have gotten out to see ANY falcons. Have a great day everyone and keep those smiles coming!  🙂